Roadmap on driving digital transformation for businesses
Throughout 2021 most companies started to embrace a digital transformation (DX) – one that fully embraces the power of digital technology to rethink each aspect of their business. Now, in 2022 organisations are making remarkable progress but for many, there is still a long way to go.
Digital transformation, the process of improving business operations, customer and employee experiences through the adoption of technology – is being developed in businesses across sectors.
Digital transformation isn't new. For the past few years, companies have embarked on digital transformation journeys to counter the potential for disruption from startups. In 2018, an IDG report revealed that 55% of startups had already adopted digital transformation strategy, by contrast, only 38% of traditional enterprises had.
Pre-pandemic some organisations, including banks and financial service institutions, were in the early stages of planning their digital transformation journey. A study from Cornerstone Advisors found that only about a quarter of banks and credit unions had embarked on a digital transformation strategy prior to 2019 and that 45% hadn't launched a strategy prior to this year.
The arrival of the global COVID-19 pandemic was an unexpected catalyst. Along with it came the almost overnight introduction of homeworking and the sudden closing of retail stores. It didn't take long for sectors, such as retail, to make huge strides in the digital landscape. One example is Burberry, who worked with Venquis to deliver an omnichannel customer experience as part of a global transformation project.
A major acceleration has taken place over the last two years. Unsurprisingly, 97% of executives said, in a 2020 survey for Twilio, that the pandemic sped up their digital transformation. In the same year, McKinsey findings showed that 72% of companies, who were the first in their industries to experiment with digital technologies during the pandemic, reported having effective responses to COVID-19. In April 2020 Microsoft 365 reported they experienced two years of digital transformation in just two months.
One major advantage now is the cloud. It's extraordinary the transformation that the cloud has had particularly through the pandemic, not just to computing, but to communication and collaboration.
Europe is now at the edge of the unfolding of a full-blown fourth Industrial Revolution powered by the combination of technologies including:
that are disrupting many businesses across the globe. These along with blockchain, machine learning and automation are technologies that can help organisations achieve enhanced productivity and transparency, agility and better decision making.
The need for digital transformation is no longer a 'nice to have' but a necessity to remain competitive. With the online shift here to stay, if you are yet to digitise your organisation, you're missing out. A lot. The top benefits according to PTC are:
Improve operational efficiency
Meet changing customer expectations
Improve product quality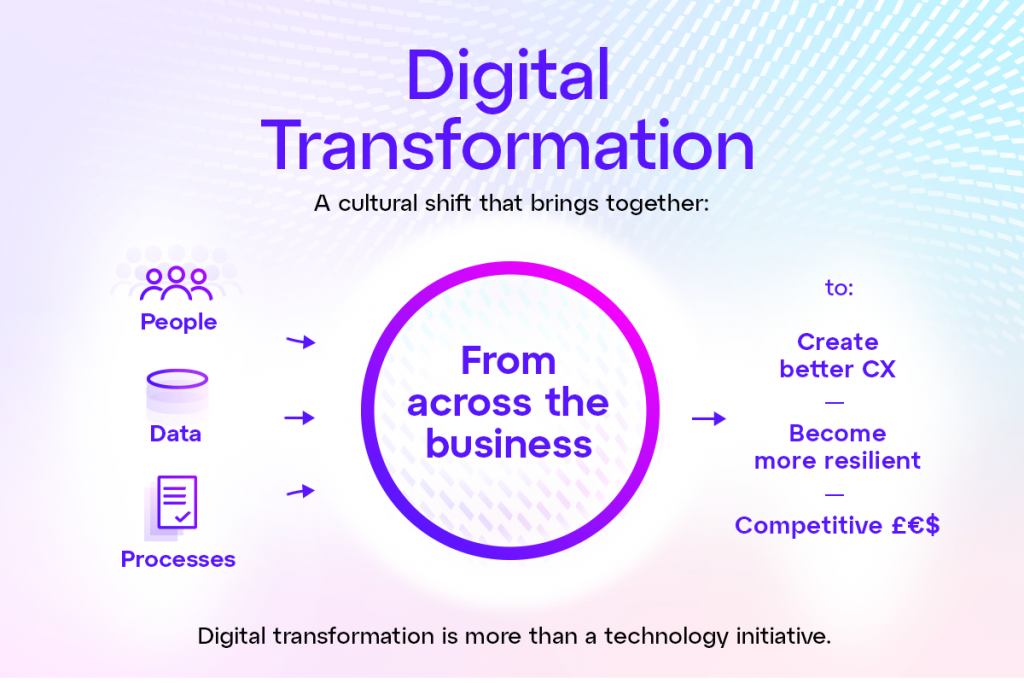 As stated on Statista, digitally transformed organisations are forecast to contribute to more than half of global GDP in 2023. And, according to engineer and entrepreneur Peter Diamandis, in the next ten years, we are likely to experience as much technological change as in the past 100 years. But, how do we get there?
Understanding digital transformation
CEOs and even CIOs of many companies are struggling to understand what digital transformation means in terms of the scope and intensity of change. CIO reported in 2020, that 89% of heads of IT said they increasingly need to rely on advisors in order to navigate new technologies, processes, and methodologies. A roadmap to digital transformation is the best place to start.
Digital transformation roadmap
A digital transformation roadmap is a number of steps that businesses can follow to achieve business goals with the use of digital technology. The roadmap begins by understanding business needs and finding gaps in the existing system to build a strategy that avoids these gaps. Here's 10 steps to digital transformation: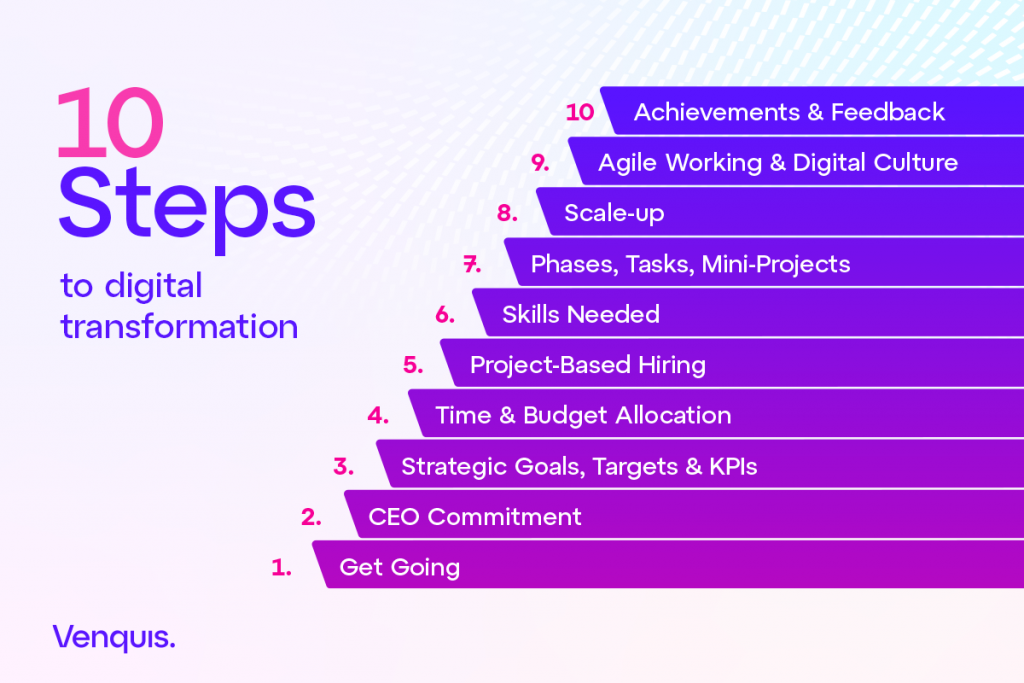 Starting digital transformation
As Henry Ford once said, "If you always do what you've always done, you'll always get what you've always got." Digital transformation requires your organisations to change the way things were done previously to better align with new technologies and customer requirements. Much more than cool apps, digital transformation encompasses almost every area of business including processes, people, and technology.
It's important to identify and prioritise customers' and stakeholders' needs and wants. This will enable you to identify and source digital technologies suitable for enhancing customer experience (CX.) Digital transformation is a complete cultural change for the company. One that is constantly challenging the business and evolving. As many businesses have realised they might need to abandon usual business practises and embrace new ways of delivering value to customers.
CEO support
Over a third (39%) of CEOs have placed digital transformation as the top priority for their CIOs (CIO, 2020). Pre-pandemic and even the most innovative IT departments were facing push-back from their management boards because they didn't value, or understand, the role digital transformation would play in business success. Nowadays, company boards are more likely to embrace digital transformation and findings from a survey by Expleo showed that over 88% of IT leaders questioned said their boards are more likely to approve new digital strategies.
When it comes to the company as a whole, try to get people to buy-in to your vision and ensure that teams understand the purpose of this digital transformation and have clarity about what it entails. The vision needs to align with your company's overall goals.
SMART targets
Targets need to be SMART (Smart, Measurable, Achievable, Realistic and Timely) with KPIs set around them. You need to think 'what does digital transformation success look like?' before determining how success will be measured. Also, identify the best-case and worst-case scenarios. Targets could be set for each source of value creation and could be set around cost savings, revenues, improved staff performance, and/or client satisfaction.
Allocating time and budget
For digital transformation to be a success, both time and significant investment is needed. Companies with outdated IT and CRM systems are likely to require even more. 79% of IT leaders, in a 2020 survey by Twilio, report that COVID-19 has increased budgets for digital transformation. European insurer Axa, for example, invested €950 million over just two years.
Project-based recruitment
Staffing and hiring are key. The competition for digital talent and the advantage technology companies have in attracting talent makes finding skilled workers a considerable challenge. Starting in 2019, Venquis provided digital staffing solutions for Nordic Supermarket brand Coop. Venquis worked with the Executive team in Denmark to recruit over 100 people across the whole of business change. The digitisation program is still ongoing, as is the hiring of specialists, which Venquis continues to support. Read how Coop Denmark's digital transformation created a seamless retail experience.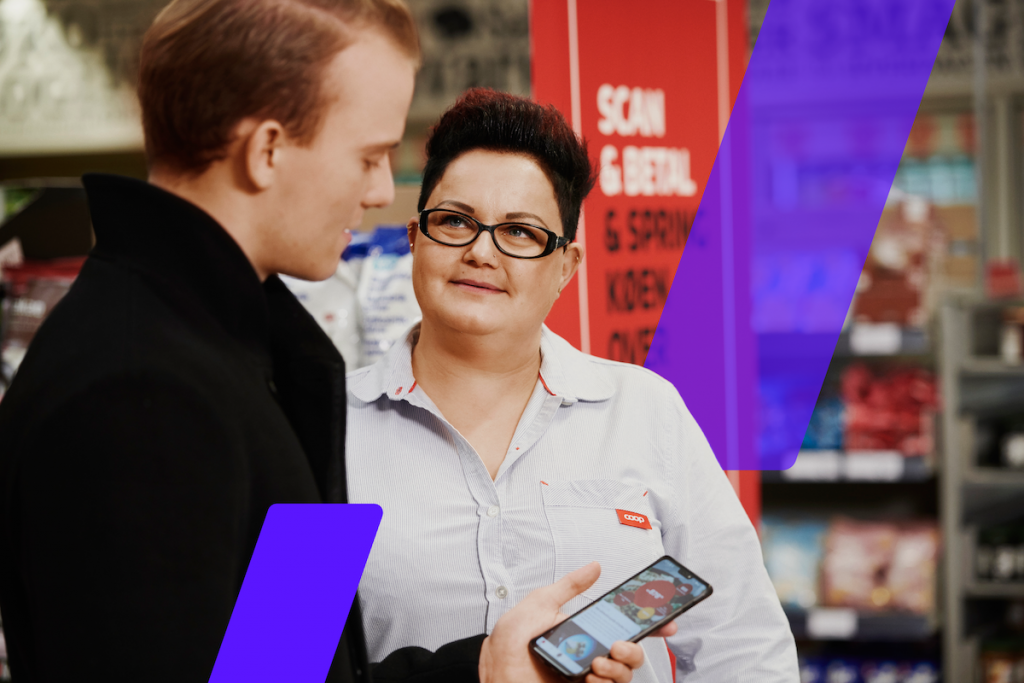 Skills Needed for Digital Transformation
The right skill sets are essential and a lack of digital skills could jeopardise any digital transformation project. Larger companies are now looking for a digital skill set that includes engineering, digital transformation, Microsoft Azure, security, computer science and tech infrastructure. Meanwhile, software engineers, cloud computing specialists, and digital product managers remain key roles for companies seeking to roll out new products and services. In 2019, data from Gartner TalentNeuron showed an outsized number of technologists being hired outside of IT, most likely for specific time-bound projects.
"Organisations across the globe are looking to be more and more agile and that includes being able to identify and attract the right talent at the right time for the right period of time. Increasingly internal department lines are being crossed in the quest for speedy and accurate delivery."

Steve Garner, Group MD, Venquis
Data scientists and data architects are in high demand, as companies seek to gain insights out of masses of data, and digital transformations lean increasingly on machine learning and AI.
The WEF Future of Jobs 2020 reports that, in 2025, analytical thinking, creativity and flexibility will be among the top skills needed; with data, AI, and cloud computing the top emerging professions.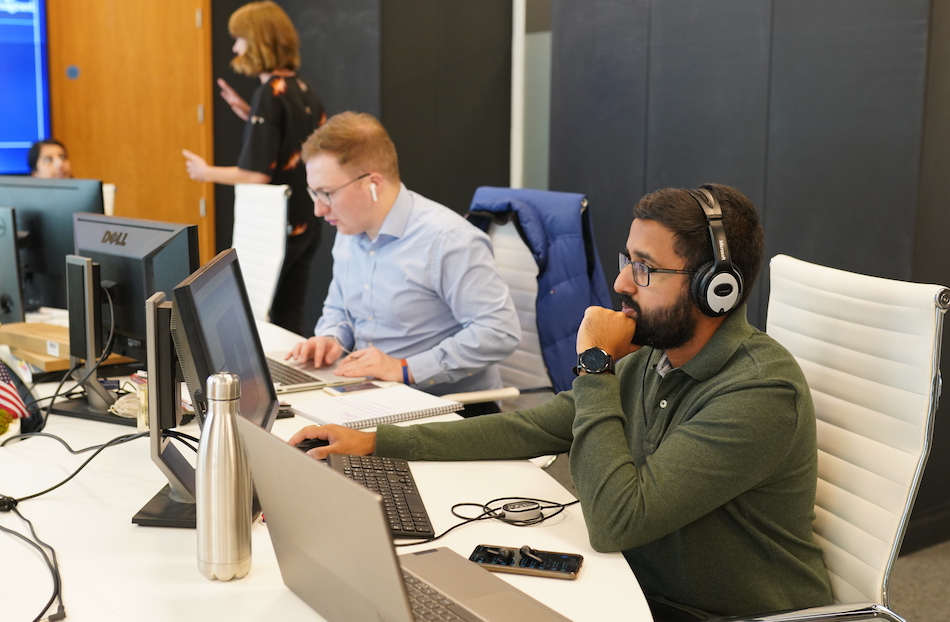 Project phases
Like any other IT project, a digital transformation will consist of a series of tasks or mini-projects, and each of these projects will have its own timeline and sub-tasks. Phases enable you to understand what you did well and what didn't, gather stakeholder feedback and make any tweaks. Each phase needs to be included in a concise project plan that precisely defines the objectives, scope, people involved, timeline, risks, etc. Having a project management skillset is essential not only to ensure that the digital transformation project runs according to plan but also that it fits with other projects running concurrently and allowing for external, unforeseen changes in circumstance.
Scaling-up
At the 18-month mark, digital transformation progress should be in full swing with a number of initiatives up and running. It is often at this point that transformation accelerates, takes effect and becomes visible. More resources might be needed and an entirely new operating model could be on the cards.
"Venquis is totally solution-driven and has a real appetite to improve, constantly asking for feedback and ways to advance. The calibre of candidates is at a very high standard and we have been able to secure candidates that we would never have been exposed to under our previous model. Venquis has been great at managing our expectations and managing the whole process from start to finish, really going above and beyond my expectations. Feedback from candidates that have been or haven't been successful with their application has been equally positive. I'm looking forward to continuing working with Venquis and I wouldn't hesitate to recommend their services."

Morten Holm Christiansen, CIO of Coop DK
Agile working in the digital environment
Companies have started to lean away from traditional team structures as teams will not be permanent. Some companies call them scrum teams or tribes. Whatever the term used, an agile team can emerge who understand the need to continually communicate ideas, welcome feedback and make changes accordingly. In any digital transformation role, this ongoing communication can be the most valuable quality.
Project completion
IT projects will run behind schedule, processes will have gaps, channel conflicts will arise and new regulatory issues will emerge. With the right tools, strategies and project-based recruitment, these issues can be solved. There is no one formula for success!
After you've completed tasks and delivered major parts of the transformation, gather feedback and measure success. Survey the people and partners impacted and assess the external responses to the changes.
Going digital in 2022
Digital transformation will be the most valuable business investment in 2022. What worked in 2019 to attract, engage and retain business is becoming obsolete. That's why companies must create a cutting-edge experience and align the organisation, processes and technology to power it – through digital transformation.
It's no longer an attractive option to wait and see what your competition do first. Chances are, your competitors are already on the digital transformation journey. But, there is good news. For those organisations that haven't been as quick to digitally transform, it's getting easier to jump some of the technology stages that other organisations have had to work through and update with cheaper, quicker and easier-to-integrate platforms.
If you are looking for talent to transform your business faster click here, call us on +44 (0) 203 405 2500 or info@venquis.com